Secondary glazing for windows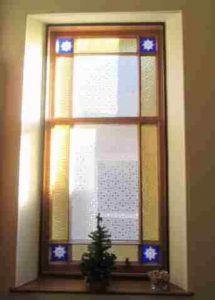 In our 2007-14 granite house refurbishment, we decided to replace all the windows in the house with double glazed units. Two thirds were sliding sash and case; the remainder pivot windows. Two sash and case windows with coloured glass were left single glazed, as replacements were to cost £3500+ each.
Along came Tanya Ewing with Glaze and Save Ltd poly-carbonate secondary glazing, installed with magnet fixing strips.  While you don't see the glazing, you feel the benefit from its insulation (See opposite).
Any concerns we had about trapped flies between inner and outer windows, or reflections from the secondary glazing have not been realised. The magnetic edging prevents any draughts through the original window frames entering the house.
In retrospect, this glazing system could have given us the same benefits of our double glazed windows, but at a fraction of the cost. In cool Aberdeen summers we never open these windows, so do not need to store the secondary glazing under a bed as recommended. In two years we have never needed to clean the poly-carbonate and no scratches have appeared on the plastic. No wonder Tanya is such an enthusiastic advocate.