Hydrogen, Carbon capture and storage and Anaerobic digestion
Hydrogen and CCS
In my last blog, I wrote how electric vehicles were considerably more efficient than those  powered by hydrogen. However, hydrogen now seems to be the magic solution to everything, a carbon free way of powering internal combustion engine cars, replacing natural gas in town gas pipe networks, and getting planes flying again free from worries of global warming. Electricity to make the hydrogen will be free, as in windy weather hydrogen can be made using electricity that the grid cannot either take or want. Or so it is claimed
I believe these views are driven by understandable panic in Aberdeen's oil and gas industry, that their industry is in serious decline. However their mission to promote carbon capture and storage, so that oil and gas can still be used to generate electricity, is being challenged by scientists free of vested interests.
I have modified Douglas Robertson's "Transport and Environment, Shahan Z, 2020"  hydrogen efficiency diagram, which I thought was ground-breaking, but has had less impact on others. This diagram says the same thing but is possibly more meaningful to the layman. (A Hyundai kono EV is used in this example for the electric vehicle. The hydrogen car has a fuel cell, while the liquid efuel, made from hydrogen, is used to power an internal combustion engine (ICE) car).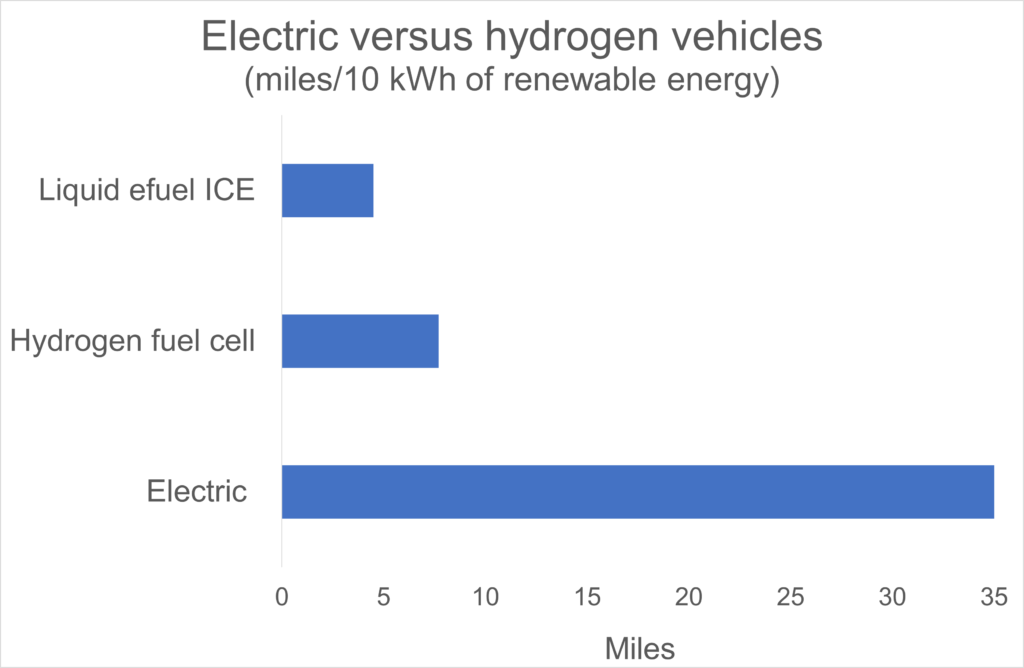 Future Aberdeen Climate Cafes
To help unravel the complexities of these arguments, Aberdeen Climate Action group is hosting three Climate Cafes on the first Tuesdays in May, June and July on "Hydrogen", "Carbon Capture and Storage" and "Anaerobic Digestion", respectively. With the magic of Zoom, we have secured speakers from University College London, Stanford University, California, and Aberdeen's new city centre AD plant developer Robin Szmidt. I have summarised their findings in a review paper I aim to insert into the SIP website under "UK energy use and generation". The general theme is that hydrogen is an inefficient, manufactured fuel; that CCS is probably a non-starter; there is mileage in AD, but the amount of methane it can produce is limited to the amount of organic waste available for digestion. Hydrogen will have a role for niche activities like shipping, flying and hard-to-electrify sections of rail.
World climate change model
I watched a zoom presentation of a USA climate change model. With a click of a switch, they could model new scenarios.
One scenario they looked at was changing from petrol and diesel cars to all electric. This surprisingly did not have the impact of reducing CO2 emissions one would have thought. While not explained, it may be that EVs use a lot of energy in their construction. While EVs seem like a "get out of jail free" solution to fossil fuel powered vehicles, we may have to move to more walking and use of bikes, electric bikes and scooters, to reduce this energy sink while at the same time making more space on our roads.
Covid-19 modified pavements.
It looks like the widening of pavements in Aberdeen, hailed as possible cycle routes, was only for social distancing. The modifications have been bizarre, but the £1.8 m probably helped the council coffers.
Retrofit of existing houses
I have approached Aberdeen City Council to see if they will back a day conference on the retrofit of existing houses. The suggested approach is to get companies to work to BS PAS 2035 – "Retrofitting dwellings for improved energy efficiency", to provide individual home roadmaps to achieve zero carbon by 2045; to require pressure testing as standard and to obtain an EPC accreditation that people can trust, and which truly reflects the improved value of the home.
Fifty percent of the hits to my website seek information on doing up old houses. There is obviously interest here. My concern is that what I have done is only half of what is required if we are to be zero carbon by 2045.
We could do with more information on subjects like 1) the utilisation of car batteries for home heating, 2) heat pumps versus far infra-red (FIR) for home heating, 3) optimum retrofit arrangements for heat pumps, 4) will methane or hydrogen substitute for natural gas in town gas mains?
If you have any comments to make on the above or any other topic, do let me know.
May I wish you a very happy New Year and a Corvid free 2021.